The Fiat Lux Scholarship creates opportunities for resilient students with unique life experiences to make a profound impact at the University of California, Berkeley.
Established for high-achieving students from partner high schools in California, the scholarship provides monetary, community, and academic support to UC Berkeley students.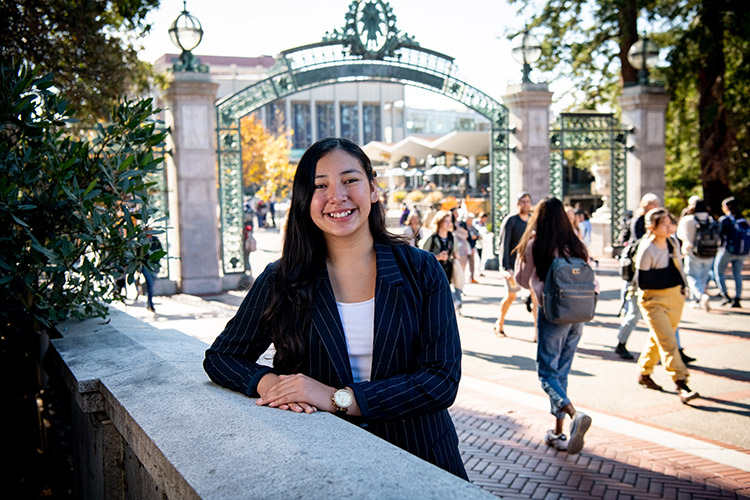 "The Fiat Lux Scholarship has given me the opportunity to focus on my academics without working or worrying about how to pay for an amazing education. Coming from a low income family I understand the feeling of not having enough money to pursue your dreams. This once in a lifetime scholarship has offered countless opportunities to network and gain a head start at the number one public university in the nation!"
Daisy B.
Fiat Lux Scholar, Media Studies major

Support and Community for High-Achievers at UC Berkeley
One of the highest academic honors offered to new students, the scholarship supports California's best and brightest for the length of their undergraduate studies at UC Berkeley. The scholarship provides opportunities to network with faculty, current scholars, and alumni, and create enduring relationships that support success and seed future endeavors.
All students who apply for financial aid at Berkeley are automatically considered (no extra application needed!). The monetary award meets up to the full financial need of the cost of attendance (as determined by the Financial Aid and Scholarships Office).
Fiat Lux Scholarship recipients shine brightly at Berkeley. Discover a scholarship program offering a wealth of support, community, and enrichment that opens doors to a lifelong pursuit of excellence and service. "Let there be light!"
You can also download Berkeley's Luminaries: Fiat Lux Scholarship (PDF) for information.
Fiat Lux: Prosperity Through Partnership

UC Berkeley's faculty established the Fiat Lux Scholarship in 2016 with the goal to attract high-achieving students from local high schools in California to UC Berkeley.

The Fiat Lux Scholarship program goals are the following:

Create a robust scholarship program focused on supporting the Bay Area, Central Coast area (Salinas), San Jose, Sequoia, Sacramento, San Diego, and Los Angeles.
Support low-income college students.
Align with ongoing UC systemwide efforts to provide open and equitable access to opportunities for learning and development for all communities.

The Office of Undergraduate Admissions trains scholars to do outreach in local partnering high schools with the support of Berkeley's Center for Educational Partnerships. This proven and highly successful program promotes "giving back" through the scholars. They become aspirational role models for the high school students and provide help during college information sessions at various events and partnering high schools.
Alameda County Office of Education

Alameda High School
Encinal High School

Albany High School District

Berkeley Unified School District

East Side Union High School District

Accel Middle College
Andrew Hill High School
Evergreen Valley High School
Independence High School
James Lick High School
Mt. Pleasant High School
Oak Grove High School
Piedmont Hill High School
Santa Teresa High School
Silver Creek High School
W.C. Overfelt High School
Yerba Buena High School

Emery Unified School District

Hesperia Unified School District

Kern High School District

Klamath-Trinity Joint Unified School District

Los Angeles Unified School District

Belmont High School
Benjamin Franklin High School
Canoga Park High School
Carson High School
Cleveland High School
David Starr Jordan Senior High
James A. Garfield High School
James Monroe High School
King/Drew Magnet High School of Medicine and Science
Marco Antonio Firebaugh High School
Phineas Banning High School
San Fernando High School
Theodore Roosevelt High School
Woodrow Wilson High School

Oakland Unified School District

Arise High School
Aspire Lionel Wilson College Prep
Bay Tech Bay Area Technology School
Castlemont High School
Envision Academy Arts & Technology
Fremont High School
Life Academy High School
Lighthouse Community Charter
McClymonds High School
Oakland Charter High School
Oakland High School
Oakland Military Inst Col Prep
Oakland School for the Arts
Oakland Tech High School
Oakland Unity High School
Skyline High School

Patterson Joint Unified School District

Sacramento City Unified School District

C.K. McClatchy High School
Sacramento Charter High School

Salinas Union High School District

Alisal High School
Everett Alvarez High School
North Salinas High School
Salinas High School

San Diego Unified School District

San Francisco Unified School District

Abraham Lincoln High School
Academy of Arts and Sciences
Balboa High School
City Arts and Leadership Academy
Galileo Academy of Science and Technology
Gateway High School*
George Washington High School
John O'Connell High School
Lowell High School
Mission High School
Phillip and Sala Burton High School
Raoul Wallenberg Traditional
Ruth Asawa School of the Arts
Thurgood Marshall Academic High School

Sequoia School District

Carlmont High School
East Palo Alto Academy
Menlo-Atherton High School
Sequoia High School
Woodside High School
Eastside College Preparatory School

Siskiyou Union High School District

West Contra Costa Unified School District

Aspire Richmond Cal Cpl Col and Prep Acad
De Anza High School
El Cerrito High School
John F. Kennedy High School
Leadership Public School Richmond
Middle College High School
Pinole Valley High School
Richmond High School

Yreka Union High School District


* Charter high schools that currently operate independently within school district boundaries.
Fiat Lux Scholarship Benefits

Monetary Award and Scholarship Tenure

Scholars are awarded up to their full financial need based on the California resident student budget, as determined by the UC Berkeley Financial Aid and Scholarships Office. Awards are renewed annually for a maximum of eight semesters, provided the scholar maintains satisfactory academic progress and has continued financial need. Maintaining a minimum 3.0 cumulative grade point average is encouraged.

Faculty Mentor

Scholars are matched with a faculty mentor who provides guidance and encouragement on their long-term academic, personal, and professional growth. Mentors are volunteers from the Academic Senate Committee on Undergraduate Scholarships, Honors, and Financial Aid (CUSHFA) and the faculty at large.

Fiat Lux Scholars Association (FLSA)

Scholars are automatic members of this student organization that sponsors academic and social activities, community service projects, and outreach events to Fiat Lux Partner schools. Sponsored activities will allow scholars to network with faculty, staff, and their peers in an informal environment.

Priority Class Enrollment

Scholars receive priority class enrollment starting the second semester of their freshman year.

Research Fellowship

Scholars have the opportunity to apply for a one-time $1,000 stipend to support research project expenses.

Financial Aid Advising

Scholars are paired with a dedicated scholarship adviser who provides support and information about scholarships, financial aid, academic advising, and other campus resources. The Undergraduate Scholarships, Prizes, and Honors Office acts as intermediary for Fiat Lux scholars with the Financial Aid and Scholarships Office for financial aid issues.
Scholarship Candidates are:

Admitted freshmen who graduated from one of the partner high schools and who attended a partner high school for at least three years
U.S. citizens or eligible noncitizens (California Dream Act Application or hold a permanent resident card)
California residents or eligible nonresidents (AB 540 nonresident tuition exemption)
Eligible for need-based financial aid
Candidates are high-achieving eligible admitted freshmen who have attended one of the program's partner high schools for at least three years.

Students are automatically considered by submitting their Free Application for Federal Student Aid (FAFSA) or California Dream Act Application. Candidates are identified on the basis of information supplied in their application for admission and their FAFSA and California Dream Act Application. Only students with financial need are eligible. California residents, eligible nonresidents, U.S. citizens, and eligible noncitizens are considered.

As part of a holistic review process, candidates are invited to a one-on-one interview with a Berkeley faculty member in late March. Interviews are scheduled in early April. Berkeley faculty select scholarship recipients.

Scholars are notified before the May 1 deadline to accept their offer of admission. Scholarship awarding operates under the oversight of the Academic Senate Committee on Undergraduate Scholarships, Honors, and Financial Aid.
Frequently Asked Questions

1. Do I need to submit an application to be considered for the Fiat Lux Scholarship?

There is no separate or additional application for the Fiat Lux Scholarship. All students who apply to UC Berkeley are automatically considered for the scholarship if they are from one of the Fiat Lux partner schools. If you are not selected as a candidate, there are many other University scholarships you will still be considered for. Remember to apply for financial aid by filling out the Free Application for Federal Student Aid (FAFSA) and if you are eligible for any University scholarships, the Financial Aid and Scholarships Office will notify you in April. Students without financial need are ineligible.

---

2. I am a Fiat Lux Scholarship candidate. When and how will I be notified about receiving the award? How do I accept the award?

Notifications are sent to students around the third week of April. You will also see your scholarship award online under My Finances at CalCentral. To accept your Fiat Lux Scholarship, respond to the Fiat Lux Scholarship tasks found on CalCantral. You should have read the Fiat Lux Scholarship Contract Terms and Conditions which were made available on your tasks on CalCentral.

---

3. Will there be an adjustment to my Fiat Lux Scholarship if I receive any outside scholarships?

Yes. Outside agency awards are applied toward your gross financial need and may require the campus to reduce the amount of the Fiat Lux Scholarship.

---

4. Will I lose my Fiat Lux Scholarship if I need to take time away from school?

Fiat Lux scholars are eligible to take two semesters of leave from the scholarship. Scholars must attend one semester at UC Berkeley before requesting a leave of absence. Scholars cannot request a leave of absence for any semester in which they have already received the scholarship. You will need to complete a Leave of Absence form and return it to your assigned scholarship coordinator.
Looking to help move the Fiat Lux mission forward? You can do so by contributing to the Fiat Lux Scholarship Program. With each donation, you help the next generation of Berkeley students shine brighter and enrich our ever-growing campus community. Donate today.