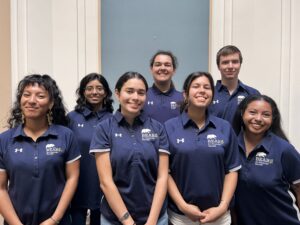 Welcome to the Center for Financial Wellness!
We are a peer-to-peer financial wellness program housed in the Financial Aid and Scholarships Office at UC Berkeley. Our team of students, who we call Financial Wellness Coach, are specially trained to help.
We recently updated our name from Bears for Financial Success to the Center for Financial Wellness because the phrase "financial wellness" aligns with our mission of promoting lasting financial well-being, both now and in the future. 
Our Mission
Financial health is a crucial aspect of a student's overall wellness. For many college students, managing money can be an extremely important and sometimes stressful topic. We understand the complexities of our students' lives, and we provide one on one coaching, workshops, and online tools tailored to students' personal needs.
Our mission is to be an accessible and inclusive resource that empowers students to make informed financial decisions and achieve long-term financial security and prosperity.
Our vision is to foster a campus culture of healthy financial behaviors and conversations, promoting financial responsibility and wellness, where students, staff, and faculty are empowered to take control of their finances and make well-informed choices.
Our Services
Currently, staff and Financial Wellness Coach offer workshops and one-on-one appointments. 
→ One-on-One Appointments: Booking an appointment with a Financial Wellness Coach is simple. Just visit our Appointment page, where you can schedule a 30-minute or one-hour session with one of our Coaches. Once you've completed the online scheduling process, we will send you a calendar invitation with the meeting information. 
→ Office Hour: The schedule for the Spring semester will be posted in early January. 
→ Group Workshops: Workshops run 45 minutes to an hour and are held throughout the academic year. Our workshop schedule is listed here. 
→ Presentations: Anyone also can schedule an in-person or virtual presentation. Topics for an approximately hour-long presentation include Creating a Spending Plan, Credit Score/Report, and Eating on a Budget, among many others.
→ Self-help: Take control of your financial literacy with our online personal finance tool: iGRAD and CashCourse. Both tools are available to all UC Berkeley students, faculty, and staff. Resources specifically for graduate students include: GradSense, Access Group
* Keep in Mind
Please use our services throughout your entire time at UC Berkeley!  Studies show that students are not thinking about money until graduation; we want to help you manage your personal finances during your time at college and educate you about your financial future.
Meet with our Financial Wellness Coaches
The Financial Wellness Coaches are our team of student peers who will be helping you at the Center for Financial Wellness. Learn more about our peers, check out our staff page. 
How to Reach Us
Connect with us through our student-run blog, on Facebook, and Instagram.
Sign up for the monthly CFW newsletter for upcoming events and resources.
If you'd like to ask a quick question that does not require an appointment, please email us at: financialwellness@berkeley.edu